THE BACKDROP STORY
- THE BAD TASTE RECORD THAT WERE NEVER RELEASED -
Back in the fall of 2001 - we had FCK-005 and SCAN-xx2.2 ready to be released, everything was ready, the graphics, the sounds and we had even booked time at the pressing company. But just the day before we had planned to send the master to the Czech republic for pressing, some dimwitts lost control of their planes and crashed into a building. I dont know who is the bigger dimwitt ? the pilots of the first plane, or the pilots of the 2nd plane who thougth that someone had survived the first crash and tried their luck to see if they could fly through a building without a scrath, and we are offcourse talking about the 11th september of 2001.
So on the 12th of September we had some new tracks ready, and yes some fucking cool graphic as well. So what else could we do but put it all into a new master and ship it to the pressing plant - and we were all happy about that we could finally make some money on this artistic masterpiece.
Somewhere along the line someone was offended by our beautifull graphics, and more importantly called me the following morning on the phone and started to blabber about that i was a terrorist, a sick fuckhead, no respect, and i even think that i was called a potato .. (dont know how it came to that but ...) - anyway i stopped paying attention to them and told them to write all what they had said in a email cause i was late for work (i had accidentally ignored the alarmclock, but was luckily awaken by this annoying person).
When i got home after a shitday of work i had received an email from the pressingcompany, and i remembered that the person called had spoken in english and probadly introduced himself as someone from a pressingcompany. But to make the story short - they had now put me on the black list for being associated with Terrorists ???
So the DCS records which administrate both FCK and Scancore records was now unable to get anything pressed - we even tried companies in France, Holland and UK all the same answer...
after some 5 months of various bullshit email exchange they finally gave up their black marking of DCS - but required a new master to be send, and some new and not so "terrorist minded graphics" to be made ... DCS had to accept - otherwise we were forced to find some less-then-attractive pressing companies ...
We here by show the graphis of the record that was never made alongside the tracking list ... in retrospective ... we havent learned a shit ...
A-SIDE :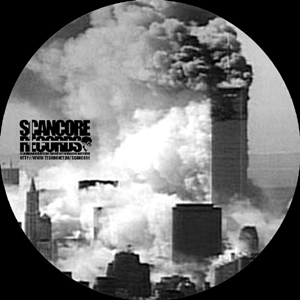 B-SIDE :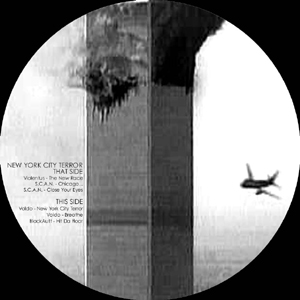 -DCS creW-