SCANCORE RECORDS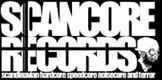 HISTORY:

SCANCORE RECORDS WAS FOUNDED IN 2001 BY THE DANISH PRODUCER, DJ AND LABEL MANAGER VIOLENTUS. SO FAR THERE ARE TWO RELEASES IN THE BACK CATALOUGUE, BUT OF COURSE THERE ARE MORE COMING. THE 2ND SCANCORE RECORD THAT WAS RELEASED GOT THE CATALOGUE NUMBER "SCAN-XX2.2" FOR CERTAIN REASONS. DUE TO VARIOUS PROBLEMS ABOUT IT, WE'LL JUST KEEP THE REASON WHY FOR OURSELVES. BUT THE ACCTUALL SCAN-XX2 WAS NEVER RELEASED AND HAS ONE DIFFERENT TRACK FROM THE SCAN-XX2.2 THAT WAS RELEASED. HERE YOU CAN READ ABOUT THE BACK CATALOGUE:
SCAN-XX1
OUR WORLD
SCANCORE RECORDS 2001

THE FIRST SCANCORE RECORDS RELEASE WAS, AND STILL IS, A SPLIT E.P. WITH DANISH VIOLENTUS AND THE SWEDISH DJ VOLDO. IT'S A PRETTY NOISY AND VIOLENT RELEASE AS MOST OF THE TRACKS ARE FAST UPTEMPO NOISECORE WITH HARD DISTORTED KICKDRUMS. AFTER ALL, YOU CAN SAY IT'S A HARDCORE AND NOISECORE RECORD.



SCAN-XX2.2
THE NEW RACE
SCANCORE RECORDS 2001

THE SECOND RELEASE IS FEATURING THE ARTISTS MR.VIO, S.C.A.N., DJ VOLDO AND BLACKAUTT. THIS RECORD DOES NOT CONTAIN AS MUCH NOISECORE AS THE FIRST RELEASE, BUT MORE HARDCORE. OVERALL THIS IS A FAST UPTEMPO HARDCORE RECORD. HARD, FAST, KICKING AND POUNDING...
THERE IS AN UPCOMNG 4 TRACKER E.P. FROM DJ VOLDO IN PROGRESS RIGHT NOW. THIS THIRD RELEASE FROM SCANCORE RECORDS, SCAN-XX3, WILL BE MORE MELODIC AND "SMOOTHER" THAN THE EARLIER RELEASES, AND WITH AN OLD SCHOOL FEEL TO IT. STILL HARDCORE...STILL KICKING...